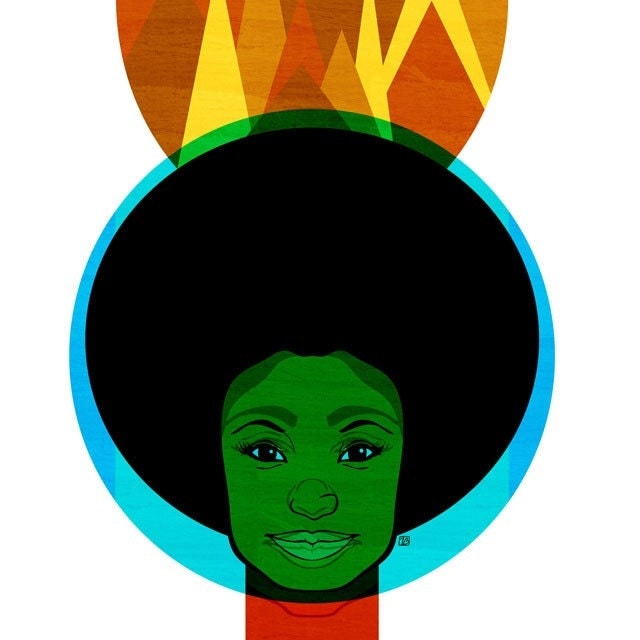 Tabitha Bianca Brown is the artist behind The Pairabirds on Etsy. Brown recieved her Bachelor of Fine Arts in Illustration from the American Academy of Art, in Chicago. In her words, "The Pairabirds" is about "reinterpreting classic soul and modern minimalism." From her little studio outside of Chicago she writes This is My Happy Place about being an introvert with a guilty pleasure of gossip blogs, her Yearbook prints, natural hair, her love of Moleskine notebooks, her inspirations and how to go about making your own art. Her work has been featured on Urban Outfitters blog, Afrolicious, Mod Cloth, West Elm blog, Paper N Stitch, to name but a few.
① Where do you call home?
Tabitha Bianca Brown: "A suburb 45 minutes north of Chicago."
② How has your hometown or the place you call home affected your art?
T.B.B: "We have a ton of nature out here. Beautiful trees and flowers. I try to incorporate those shapes and colors into my work."
③ When and how did you get started on Etsy?
T.B.B: "I started Etsy in March of 2007. I heard of it on Craftster years before, but didn't think of it again until I began to seriously consider selling my work."
④ Where did the idea of the Yearbook prints come from?
T.B.B: "The idea of Yearbook [prints] came from vintage sepia-toned photographs."
⑤ I actually have a favorite Yearbook print you've made: Edith! I really love her tee-shirt type of "Pet yourself, not my hair." Edith is a powerful cultural statement, I think. As a woman with 'natural' hair, have you ever been approached by such behavior from strangers? Or even people you know? If so, how did you respond?
T.B.B: "Fortunately, I haven't dealt with people touching my hair. But, I've read so many horror stories of natural-haired ladies having people grab their hair. I knew plenty of people could relate to the shirt slogan. As for responding to unannounced petting….I read somewhere that you should begin petting the other person's hair so they can see how awkward and uncomfortable that is!"
⑥ You've mentioned in your interview with Etsy blog that you are inspired by Alphonse Mucha. How did you discover him and what sort of affect has he made on your own artwork?
T.B.B: "I'm not quite sure how I discovered Mucha. It was probably from just poking around in the art section of the library. The organic linework and lightness of Mucha's work was something I wanted to create in my own illustrations."
⑦ Also, in your interview, I read that you like to keep your life private but you do enjoy gossip blogs — how did you come to discover this about yourself? And which [blogs] do you read?
T.B.B: "I've always been introverted. As I've gotten older, I begin to realize that there is nothing wrong with wanting to be with "one's own thoughts." As a private person, how I rationalize reading about celebs' private lives…I have no idea! I would never want my private life in blogs, but reading about people who are so far removed from my life is okay to me. Some of the blogs I read are not entirely gossip, such as Jezebel and Clutch. My guilty gossip blog pleasure is ONTD."
⑧ In your Etsy interview, you were asked what your autobiography would be entitled. But I'm curious to know what you'd want your epitaph to read. How do you hope to be remembered?
T.B.B: "In the Etsy interview, I mentioned wanting my autobiography to be like a game of Mad Libs. So, in keeping with that theme:
"Wow, she was truly a (adjective)!" "
⑨ What words would you pass on to fellow artists that are overwhelmed with potential project ideas or engulfed with ennui during tough times for the creative sector?
T.B.B: "For those with too many ideas and so little time: make lists. Write/sketch down potential projects. Make note of which project can be done quickly, which have the tightest deadline, what requires more materials, etc.
And, most importantly, write these timelines down in a calendar or planner. I live by my Moleskine Weekly Planner. I keep track of projects, orders, grocery lists, everything. It is one of the best items for an artist/designer/businesswoman (No, I don't work for Moleskine. Nor, do I get paid by them…But, if you are reading this, Moleskine executives, Hello! Sure would love some Moleskine Notebooks!)
For those stuck in a rut: sketch, read, and research all the time. The sketches don't have to be great. The books don't have to be terrific. And, the research does not have to relate to your field. But, keeping your mind constantly working will help you in the long run."
⑩ Lastly, a random question, what's your sign?
T.B.B: Scorpio.
To keep up with The Pairabirds and Tabitha's work, visit her blog entitled 'Cover That Mother', Flickr, Tumblr and/or Twitter.
Much thanks and gratitude to Tabitha Bianca Brown for being my first 'Inspiration of the Month' profile! *Also, if those Moleskine exec's do in fact see this, send some notebooks my way, too!♥ // Permission to include graphic print granted by the artist, Tabitha Bianca Brown. // Please do not reproduce, copy, save, download, disseminate image without consent of artist.